CLIENT
SChool project
ROLE
WEB DESIGN
YEAR
2020
THE BRIEF
A school project together with Grebban. The mission was to redesign an e-commerce website. The website I chose is called TIKEI, It's a Swedish mineral makeup brand.
THE BRAND
Mineral makeup is made of 100% minerals. The difference between regular makeup and mineral makeup is that mineral makeup is made without preservatives and therefore the skins pores are not clogged. The mineral allows the skin to breathe even though you have makeup and the risk of skin irration is reduced. As a young adult you cna hsave problems with your skin like acne. Mineral makeup is a very good alternative to regulare makeup.
THE RESEARCH
I wanted to renew and simplify the website, so it would fit and attract young adults more. I also wanted to make a more inspring website fo makeup users and the reason for using TIKEI mineral makeup.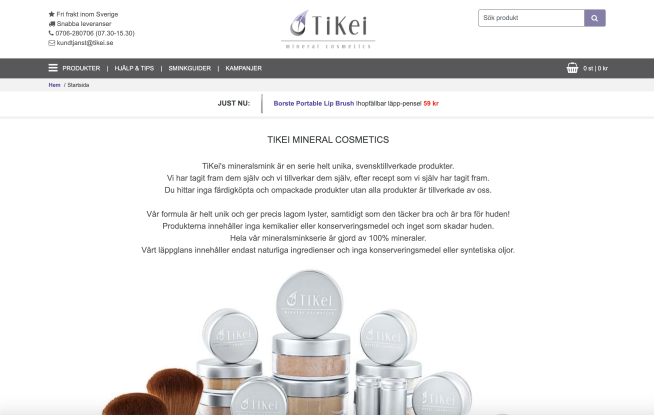 THE RESULT
The final result is a more modern website that attracts  young adults – a more edgy and cool website. It's also more user frendly, easier to navigate and the products are in focus.